Nov 2nd, 2009
|
Skiing, snowboarding, ice hockey, modeling – is there anything that Caroline Gleich can't do? Professional skier Caroline Gleich has a lot of expertise under her belt at a very young age (she is just 22 years old), but that doesn't stop this overachiever from wanting more.
At the age of 18, Gleich knew that she was destined for snowy hills and stardom, but in the all-boys world of professional skiing it took a lot of courage to face her competition. In a recent interview with Skiing Magazine, Gleich commented on how tough it is to be a girl in a boys' playground.
Caroline Gelich – Skiing

photos: Steven Lloyd
She learned quickly that "women need to project their voices…aggression is not taught as a desirable female characteristic, but good skiers need to be aggressive." Aggression and hunger are what fuel this super athlete, but she also takes an interest in her female admirers.
Gleich tells future female skiers that "…you have to struggle a lot…" words that are nothing short of gold to the many young girls that she coaches as a USSA Level II Certified Freeride Coach. Recently, at the Roxy Pop Drop event, Gleich taught young girls how to pull off some tricky water ramp moves.
Frustrated by ski camps that were constructed mostly for boys, Gleich was determined create an all-girls camp. That's when she spoke with Roxy reps Kristy Mitchell and Sue Larson. Soon after, the Roxy Pop Drop event was born – when Gleich sets her mind to something, not much stands in her way! The camp was a success that showed "…30 girls—an awesome turn out" how to face water ramps Gleich-style.
Caroline Gleich – Model

photos: Matthew Turley
In addition to her many skiing achievements, Gleich also works as a sports model. How does one person have the time to complete so many different projects? "I have ADHD [Attention Deficit Hyperactivity Disorder] and like always having three things on my plate" she states.
One of the things that's always on her plate is education. Frequently, Gleich can be found with her nose buried in a book. At present, she is studying anthropology at the University of Utah. Once she obtains her bachelor's degree, she plans on completing an M.B.A or applying to law school – little else can be expected from this go-getter.
Ski Magazine, Powder, and Seventeen Magazine have all made it a point to feature Caroline Gleich, and now its Tremblant Living's chance. Tremblant Living will be showcasing a variety of Gleich's skiing and outdoor photographs within the Tourist Information section of our website.
Caroline Gleich in Ski Magazine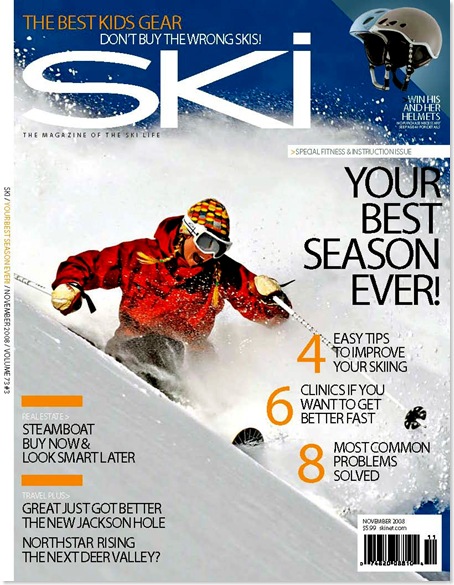 As Gleich is known for tearing up powder all over the globe, seeing this skiing sensation at Mont Tremblant is something to look forward to. Optimistically, we hope to see Caroline Gleich at Tremblant in the very near future.
Caroline Gleich Official Website
Caroline Gleich – Video

Caroline Gleich – Video